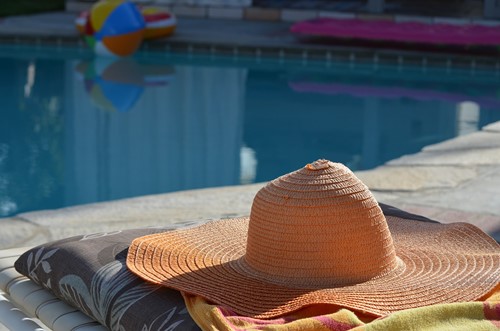 Enjoying your outside spaces has never been more important. With canceled plans, limited travel and a complete upheaval of work and school schedules, it's crucial to have an outdoor escape. While you might not be able to travel to a distant tropical resort, you can bring the resort home—specifically, to the backyard. Here are some ideas for making your own backyard feel like a resort:
Functional Spaces
A key to making your backyard feel like a private resort is to define functional spaces. Similarly to how you would decorate a home with an open floor plan, choose specific areas for specific things like cooking, dining or conversation. You can do this in a variety of ways and in most cases it's as simple as placing the furniture in ways that encourage people to use the space. Resorts make great use of this concept by having separate but inclusive areas for lounging by the pool, grilling a homemade dinner or having a drink.
Soft Lighting
Soft lighting is crucial to creating a resort mood. You can make any night feel like a warm summer night with the right lighting. Try combining white string lights with large paper lanterns. Adding solar-powered path lighting to light walkways and edges will make your yard safer in the dark and add to the resort vibe. Make sure every functional space has its own lighting, but keep it cohesive by using the same style throughout the entire backyard.
Lounge Furniture
What could be more resort-like than a luxurious lounge chair? If you don't already have outdoor furniture you love, consider investing in the most comfortable chairs you can find. Furniture with cushions will enhance the resort feel while also presenting an opportunity to change things up in the future. If you want to redecorate, simply swap out the cushions rather than the entire furniture piece and it will feel like a whole new backyard resort.
Tropical Plants
Bring the tropics home by adding some tropical container plants to the decor. Palms and banana leaf trees will make any outdoor space feel lush and luxurious, no matter the climate. If you live somewhere that gets cold in the fall and winter, make sure you bring your tropical friends inside if possible. Protecting them from the winter cold will allow them to flourish for many summers to come.
Water Features
If you have the space for it, adding a water feature is a simple way to transform an entire space. You could build your own waterfall and pond for a calming natural element that emulates a tropical oasis. You could also use freestanding pedestal fountains to add a splash of water to the environment. A water feature will add visual interest and provide the calming sound of running water to help you switch into resort relaxation mode.
These are just a few ways to make a resort out of your own backyard. If you're having trouble getting started, think of a specific theme or locale to use as your inspiration. Build around your favorite luxurious elements and create a space you can escape to without ever leaving home.